Home » About New Health »

Dr. Hsia's Message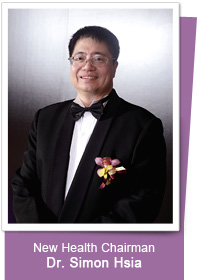 Greetings
Welcome to NH Nutraceutical, Inc! Congratulations on entering the world of nutraceuticals and embracing Health and Freedom. NH Nutraceutical would like to commend you on your courage and determination in seeking the truth and participating in the forefront of nutritional science. Thank you for your support in our endeavor to pursue a better health.
Nutraceutical
The nutraceutical concept was first proposed in the early 1980s. The main goal of nutraceuticals is to use dietary supplements to help maintain overall health, improve and prevent the onset of illnesses, reduce dependence on medication, and prevent health damage caused by medication side effects. Nutraceutical products possess three basic properties: (1) Natural, (2) Safe, and (3)Effective.
Taking the Right Path
Products manufactured to the highest standards are one of the most vital lifelines of a successful company. NH Nutraceutical products are innovatively designed and formulated based on the latest scientific research. NH Nutraceutical, Inc. uses premium quality natural ingredients and employs a state-of-the-art formulation process to manufacture safe and effective natural nutritional products. NH Nutraceutical looks forward to helping each one of you achieve optimal health through the proper use of nutraceutical products.